Natural-Looking Full-Arch Replacement in the Dallas/Fort Worth Metroplex
As a leader in dental prosthetics, patients throughout the Dallas/Fort Worth metroplex trust Dental Loft for All-on-4 dental implants. This innovative treatment option provides you with a beautiful and natural-looking smile. As an alternative to traditional dentures, All-on-4 dental implants offer numerous benefits to our patients to improve their confidence and comfort. Our team of compassionate dental professionals will customize a full set of upper or lower teeth. If you're tired of dealing with uncomfortable and inconvenient dentures, contact us today to schedule your All-on-4 dental implant consultation.
Discover a Whole New You With All-on-4
Age, injury, and decay can contribute to losing an entire arch of teeth. There's a better way for patients currently dealing with the inconvenience of dentures. All-on-4 dental implants are an alternative to traditional dentures and provide a permanent solution for tooth loss. The dental appliance is customized to match your bite profile and offers better eating and speaking support. You'll also enjoy a beautiful new smile you'll love. Learn more about some of the additional benefits of All-on-4 dental implants.
All-on-4 dental implants don't require any special cleaning routine or care.

You'll enjoy all your favorite foods with no dietary restrictions.

All-on-4 dental implants are secured to your jaw, so there's no risk of them slipping or falling out.

You'll experience renewed confidence in your smile.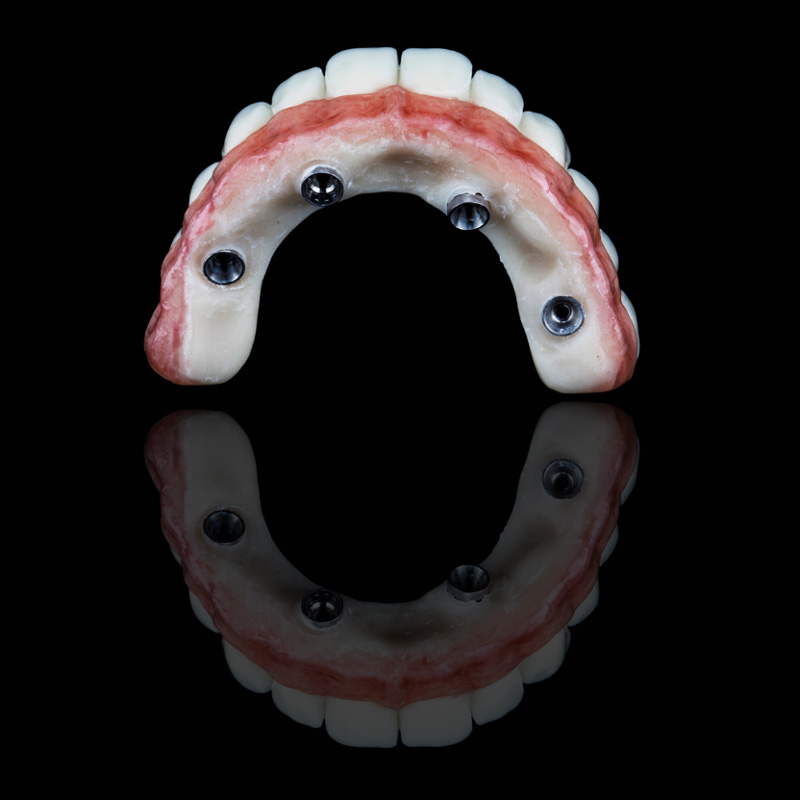 Innovative Dental Technology for Outstanding Results
All-on-4 dental implants combine features of dentures and dental implants to provide you with a beautiful new smile. Our dentist begins by taking measurements to ensure the prosthetic fits comfortably. Next, they'll strategically place four dental implant posts on your upper or lower jaw. Once the posts have healed, the new dental appliance is placed. Your All-on-4 dental implant replaces your entire top or bottom row of teeth. When the treatment is complete, you'll have a beautiful, natural-looking set of teeth that require no special care beyond typical brushing and flossing. Our team is committed to providing patients with the very best dental solutions to give them the confidence they need to become the best versions of themselves. Schedule your appointment today to find out if All-on-4 dental implants are right for you.