Meet Dr. Vargas
"A patient is entitled to as much of my time they may need. I believe in relationship-based health care."
Dr. Claudia Vargas's philosophy is to treat the whole patient because oral and overall health are interdependent. She is deeply interested in sleep issues and how dental and oral health can help patients sleep better. Dr. Vargas describes herself as a perfectionist and says, "Mediocrity is not an option for me. If I take on something, it must be done perfectly or not at all." She takes all safe measures to save a tooth and uses the least invasive treatment possible.
Dr. Vargas was born in Buenos Aires, Argentina, but grew up in Santiago, Chile. She loved nature, science, and watching National Geographic programs as a child. Dr. Vargas' love of science and working with her hands motivated her to become a dentist. Her father was in the Chilean Air Force, and her mother worked in her grandfather's small business. Eventually, Dr. Vargas' parents owned a business, and she worked small jobs for her grandfather and parents. Her dream became to own a dental practice.
As the first three family members to complete college, Dr. Vargas and her sisters pursued healthcare careers. After completing dental school, at age 26, Dr. Vargas came to the U.S. to visit her childhood friend, Andres, whom she met at age three in a neighborhood daycare center. Dr. Vargas' U.S. vacation led to a permanent stay, and she and Andres eventually married.
Although Dr. Vargas completed dental school at Universidad Andres Bello in Chile, she had to attend dental school again in the U.S. to practice dentistry here. She is proud of her journey—learning a language she did not know except through American movies and taking exams and Boards while attending the University of Texas Health San Antonio School of Dentistry (UTHSCSA)–one of the premier dental schools in the country. After graduating, Dr. Vargas completed a Residency in Advanced Education in General Dentistry at UTHSCSA.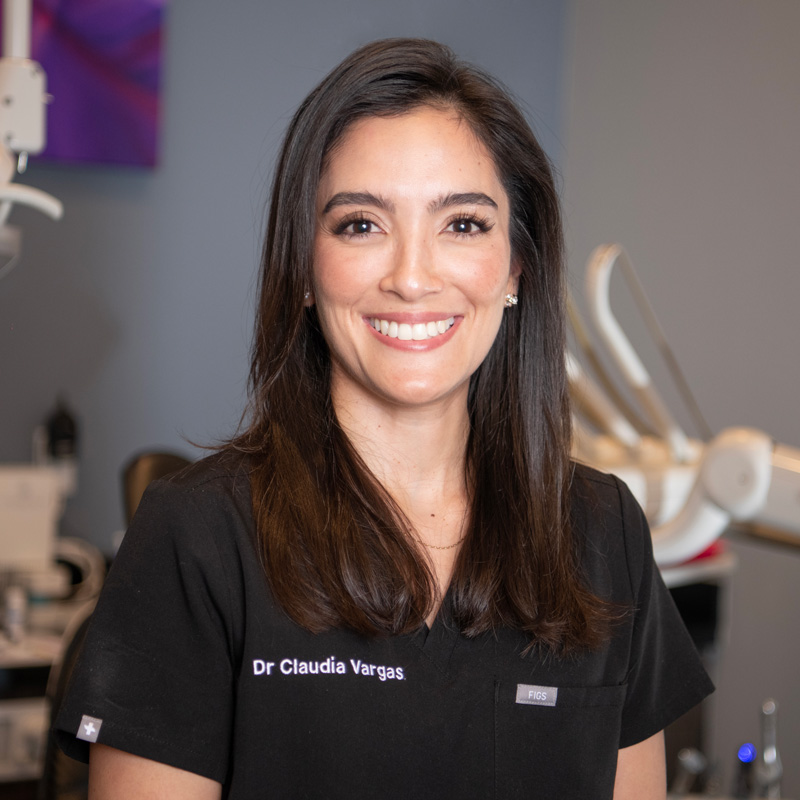 Universidad Andres Bello (Santiago, Chile)
University of Texas Health San Antonio School of Dentistry
Residence in Advanced Education in General Dentistry
Academy of General Dentistry
Professional Achievements
Published thesis: "DMFT Index Versus Microbiological Recount, Salivary Flow Rate, pH and Salivary Buffer Capacity," International Association for Dental Research (IADR) 2009
Dr. Vargas skated competitively in high school and now takes every chance she gets to skate. She also enjoys running and walking on the Katy Trail. Every morning during breakfast, Dr. Vargas and her family like backyard bird-watching cardinals, blue jays, starlings, woodpeckers, and American robins (among others). She also enjoys drawing and watching her favorite TV shows and movies.
Dr. Vargas and her husband Andres Correa, a business trial lawyer, live in Dallas with their two young children, Martin and Elena.
What Dr. Vargas Says About Dentistry
"When I am working on a patient, I am in the zone. I love that moment. I am entirely focused, and I enjoy the challenge. I can forget about everything else. I enjoy improving people's smiles (front teeth) and helping them feel satisfied and happy with their smiles.
Also, I love surgery. It is challenging and requires 100 percent of my focus and attention. Surgery is often a fast way to see results, so it can be gratifying. It is especially satisfying when I feel like I am making a change in someone's life."